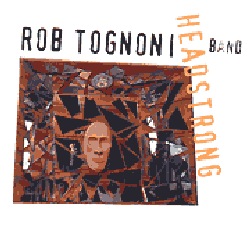 artist :

ROB TOGNONI BAND

title :

Headstrong

origin :

AUSTRALIA

style :

Blues Rock

format :

CD

catalogue
number :

CD 04-DD169

licensed by :

Mascot, 1997

distribution:

Dark Division

mp3:
Rob Tognoni - vocals, backing vocals, lead,
rhythm, bass and acoustic guitar
Terry Cameron - rhythm guitar
Eric Poole - bass guitar on tracks 1,2,4,6,12,13
Rick Lloyd - drums
Andrew Higgins - backing vocals on "The Riverside"



01.Times Change
02.Got Yourself to Blame
03.Stones and Colours
04.Roosevelt and Ira Lee
05.Wanna BE With You
06.Ain¦t That Enough
07.Take Me Away
08.Dark Angel
09.Everlasting Lovin¦ Boy
10.Jim Beam Blues
11.The Riverside
12.Keep Your Head Above Water
13.Baby Please Don¦t Go


Total time : 52.13
Produced by Mark McCormack and Rob Tognoni.
Recorded and mixed September 1996 at A.H.Studio's,
Glenview, Australia by Mark McCormack.
Technical assistance by Andrew Higgins.
Mastered at Grevillea Studio, Brisbane, Australia
by
Rodney and Malcolm Jacobson.
"Baby Please Don't Go" recorded and mixed live,
July 1996 at the Midtfyns Festival, Denmark by
Torben
Schmidt (producer) and Jacob Langkilde (engineer)
for Danish radio P3.
All songs written by R. Tognoni except:
"Roosevelt And Ira Lee" by Tony Joe White,
"Baby Please Don't Go" by Joe L. Williams,
"Keep Your Head Above Water" by R. Tognoni and K.
O'Leary,
"Dark Angel" by R. Tognoni and L. Polec.
Album cover concept: Rob Tognoni.
"Headstrong" sculpture: April Lanagan.
Album sculpture photography: Genevieve MacCallum.
Inside booklet and bottom inlay photography:
Witold de Man.
Disc photography: Paul Tognoni.
Artwork: Fabrique Graphique.



Автралийский состав представляет смесь хард-рока и блюза. Группа больше известна благодаря своим концертам - они выступали вместе с Joe Walsh, ZZ Top, Sting, Joe Satiani и многими другими! Этот диск получил массу положительных откликов в прессе и считается эталонным для творчества артиста.